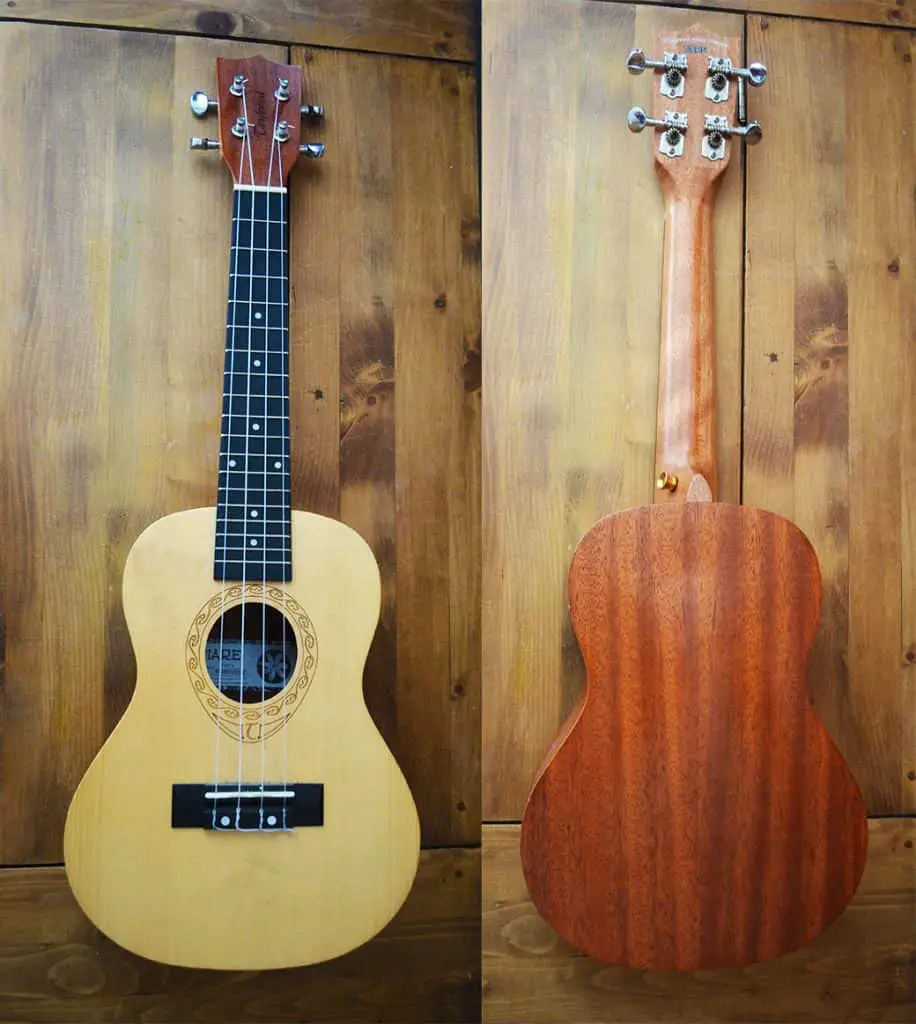 For my latest review, I thought it might be helpful to a lot of new or would-be ukulele players to provide a balanced review of a good entry-level instrument that won't break the bank.

Before I begin the review, I should probably express a particular interest in this model, as my daughter began her ukulele journey on this very instrument around three years ago in 3rd grade. The longevity of the TWT4, linked with its overall playability and sonic qualities will also figure in my overall assessment.

So who are Tanglewood?
Tanglewood is a UK-based company who specialize in fretted instruments, including guitars, amplifiers, ukuleles, banjos and mandolins, mainly pitched at the entry to mid-range price point. Although they're built in China, the design originates from the UK, much like Harley Benton guitars are designed in Germany, but manufactured in China.
As most will know, manufacturing in the East Asian behemoth can be quite variable, depending on the company you're dealing with. In this case, though, having the UK parent company acting as a quality control hub obviates any possible short cuts prevalent in some sectors of the market.
In an ideal world, there wouldn't be the reliance on Chinese manufacturing to produce affordable well made quality instruments. In reality, though, home grown products with all of their associated overheads preclude many companies from providing any kind of competitive edge in the market.
If you're wondering what the 'Tiare' moniker is referring to, it's the rather beautiful Polynesian flower featured on the label inside the soundhole. You may well recognise its familiar shape from the Hawaiian lei (the flowered necklaces associated with the 50th state).
For the horticulturally inclined amongst you, the Tiare is also called the Tahitian gardenia (or gardenia taitensis).
Construction
First impressions of the TWT4 present a simple uncluttered appearance, without too many fancy embelishments or design details. That's not say that the instrument is unattractive, but it doesn't quite have the look and feel of a Kala or a Snail uke at the slightly higher retail price.
What it does give you though is an instrument that handles well and won't let you down in terms of reliability and tonal qualities.

The top is spruce with a nice celtic design rosette laser etched around the soundhole. It is a little surprising that Tanglewood didn't carry the Tiare theme over into this, but it's quite attractive nevertheless.
To cut costs down, the finish is simple without any purfling (the binding around the edge of many higher priced instruments). I expected the top to be laminate, but as far as I can tell it is one piece of thinly cut solid spruce, which is impressive for the price.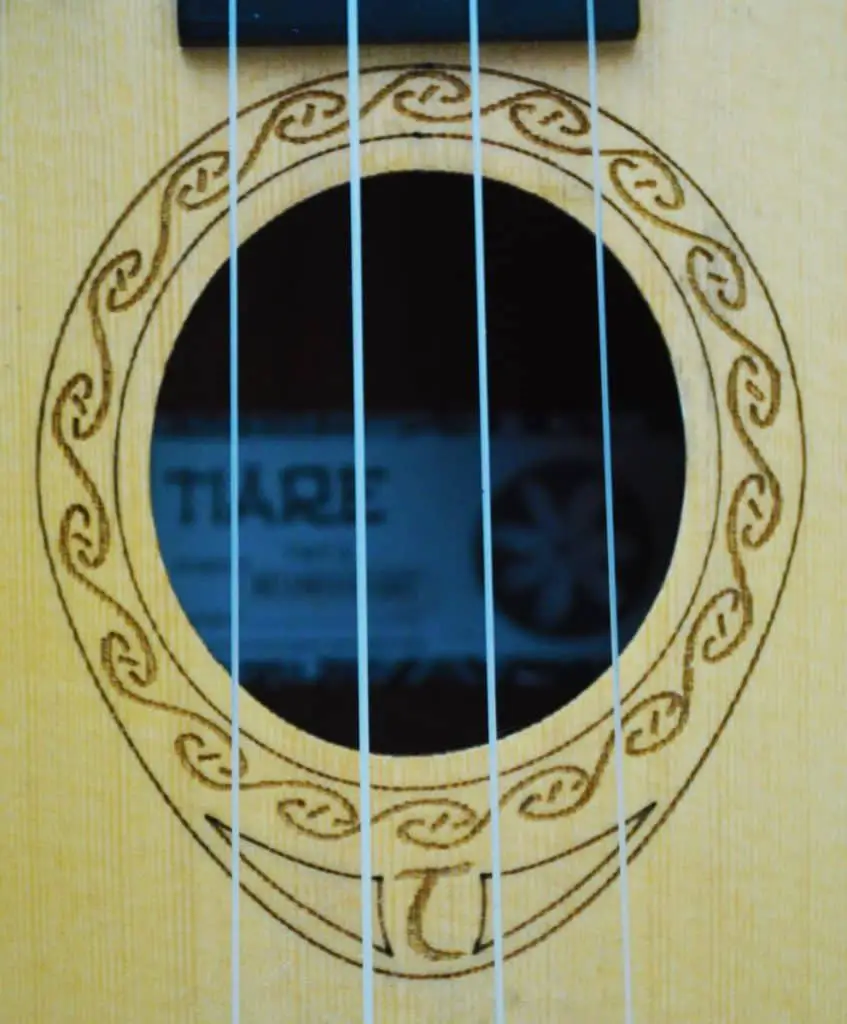 The back and sides contrast nicely in mahogany, a warm tone wood found on a number of different fretted instruments, particularly, the guitar. The back and I'm presuming the sides too are made from mahogany laminate, but don't let this be a deal breaker.
Laminate may not have the innate ageing qualities of a solid piece of wood, but equally, if it sounds half decent to begin with, the sound won't deteriorate over time. Again, there's an absence of binding where the back joins the sides.
The back is also nicely arched, albeit with a two-piece construction where the two pieces meet in the middle. This isn't an uncommon manufacturing technique as larger pieces of wood or laminate are harder to source at an affordable price on many types of instrument.
The 'C' shaped neck is made from oukoume, an African hardwood native to Gabon and the Republic of the Congo. In appearance, it could be mistaken for mahogany, having a very similar grain pattern. The headstock and heel are made from separate pieces of wood, glued onto the neck.
The joins are apparent if you look closely enough, but do appear to be properly done and should hold up well during normal use. I know my daughter hasn't experienced any separation or warping during the three years of owning the instrument.
Quite surprisingly for an instrument in this price range, the TWT4 has a trussrod (accessible from the soundhole), should you need to micro-adjust the neck to achieve a better action. There were no such problems on this particular model, though.
The stained black fretboard (or fingerboard) is poplar, not an obvious choice for a fretted instrument, but it does feel nice and smooth under the fingertips. At this price, you won't get ebony, rosewood or maple, but again that's not really a negative in my eyes.
It features seven inlaid marker dots at positions 5, 7, 10, 12 (double), 15 and 17. I'm a little disappointed not see the corresponding mini dot markers along the side of the fretboard, but this is probably one area where they've had to cut costs.
There are 18 frets in total covering 1.5 octaves on each string. The frets are nicely dressed without any sharp edges to catch your fingers on along the edges. This might seem to be a given on any fretted instrument you buy, but sadly that's not always the case!
The bridge is again, stained black, to match the fretboard with two pearloid dots for decoration, culminating in standard tie bridge holes, à la a classical guitar. In the manufacturers blurb, the wood isn't specified, but it has a rough open grained appearance.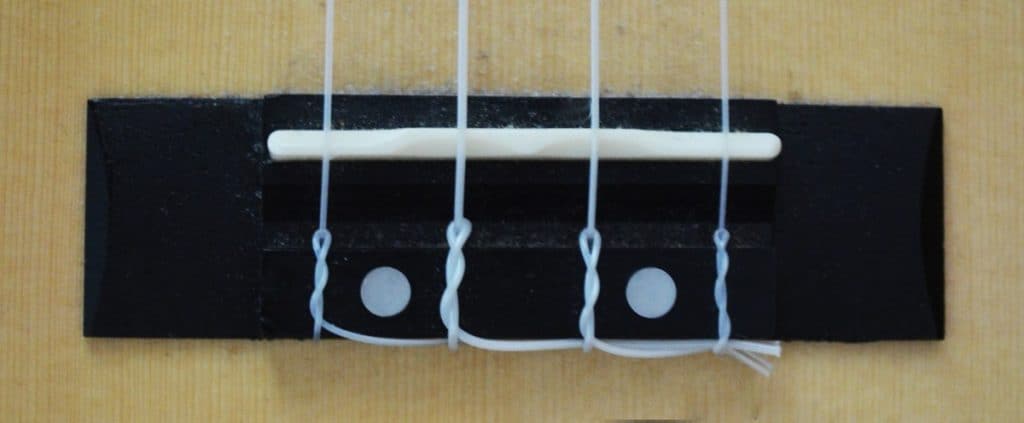 The nut and saddle aren't anything particularly special, being manufactured from ABS plastic. You could replace these with bone eventually, but in practice, they're quite adequate. The action at the first fret after the nut is comfortably low, making barré chords very achievable without having to exert a lot of pressure.
At the twelfth fret it's again quite decent. Some people may want it a fraction lower, but it's really not too bad at all.
The shield-style headstock is simple yet effective, with the Tanglewood logo laser etched into it.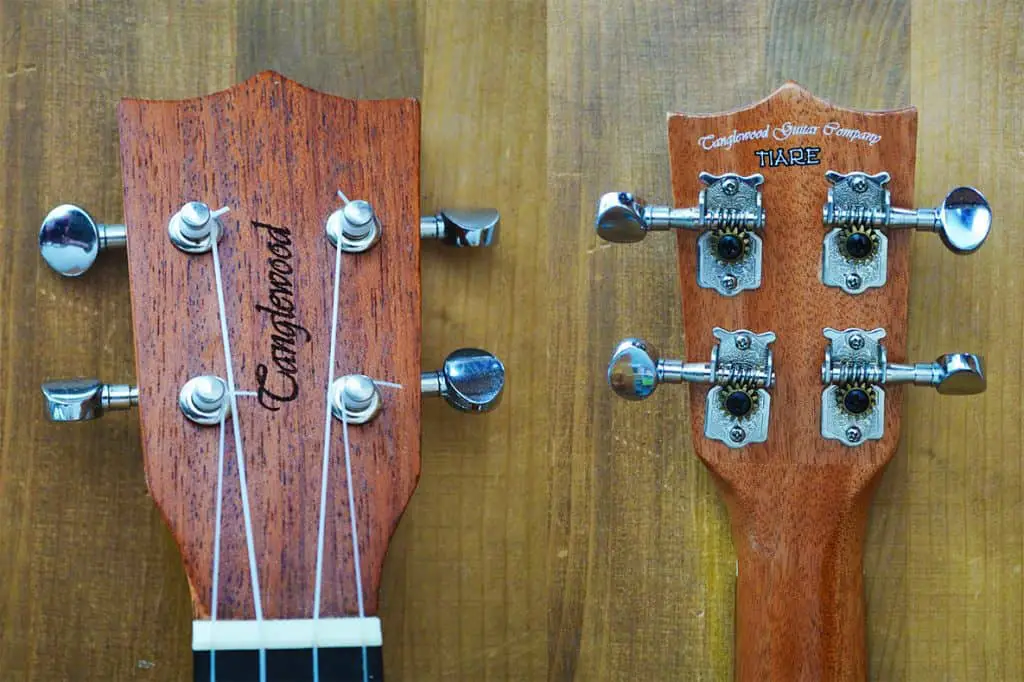 The tuners may not be Gotohs or Grovers, but they are very solidly built and hold their tuning very well without slippage. You can also turn them micro-incrementally and they move smoothly without a sudden loss of grip. This is a big plus and will save you a lot of time retuning.
As with many ukes today, the Tiare Concert model is supplied with the excellent Aquila Nylgut strings, which are durable and hold their tuning well after the bedding in period. Aquila is an Italian string manufacturer.
Specifications at a Glance
Top: Spruce
Sides: Mahogany Laminate
Back: Mahogany Laminate
Neck: Okoume
Fretboard: Poplar
Bridge: Natural Wood (unspecified)
Nut: ABS Plastic
Saddle: ABS Plastic
Tuning Pegs: Die Cast Chromium
Strings: Aquila Nylgut
Scale Length: 15.11″ / 384mm
Total Length: 24.4″ / 620mm
Depth: 2.75″ / 70mm
Lower Bout: 8.4″ / 214mm
Upper Bout: 6.18″ / 157mm
Weight: 1.54lb / 700 Grams
Sound and Playabilty
Sound is very subjective, but in my opinion, for an instrument at the cheaper end of the market, it's very pleasing and well balanced, with plenty of treble, paired with a good degree of warmth.
It doesn't sound tinny or cheap and will make a very nice starter instrument or a good back-up for the more advanced player. The intonation is good, further up the fretboard, although not absolutely spot on beyond the twelfth fret – a common problem with shorter scaled instruments in general.
Although the model I'm reviewing here features the standard re-entrant tuning associated with the majority of ukes, it should fair just as well with a low 'G', should you wish to go down that route.
If you're specifically looking for an electro-acoustic version of the TWT4, there isn't a direct twin with in-built electronics in the range, but the next concert model up is quite similar (TWT3E), but features a black walnut finish with eboncore fretboard and bridge.
It's a little more expensive, but not by a great deal. There's also an acoustic version of this model (TWEP3) that price-wise, sits in between the TWT4 and the TWT3E. After that, you're entering lower mid-range territory, which is not really the premise behind this particular review.
Accessorizing
If you want to take your ukulele on road trips or to gigs, it's almost obligatory you purchase a case for it. In most instances, a soft case will be fine, but if you want extra protection, a hard case is a good option, albeit a lot more expensive one.
Not to everyone's taste, but I like to install strap buttons on all of my instruments – on the bottom and at the heel position. This gives you a hands-free playing position when you're wearing a strap.
This is particularly useful if you get sweaty hands or suddenly lose your grip when you're cradling the uke in your arm. Look out for a future blog on installing strap buttons!
As I mentioned, you'll need a strap for the strap buttons. There are many to choose from on Amazon or at your local music store, so go wild if your penchant is grunge, death metal or sedate pretty flowers. A guitar strap is a little bit bulky for a uke, but it will still work okay.
You could also do with a chromatic tuner to make tuning as simple and quick as possible. I recommend the Snark range for accuracy and ease of use.
A spare set of strings: If you like the sound and feel of the Aquila Nylguts, it's a good idea to get a spare set in case of breakages.
A plectrum, if you find your fingers get too sore. A beginner should opt for felt or leather picks if possible.
Very much an optional extra, but why not get a nice compendium of ukulele songs. I can recommend 'The Ultimate Ukulele Fake Book: Over 400 Songs to Strum and Sing' (Hal Leonard) and 'The Daily Ukulele: 365 Songs For Better Living' (Hal Leonard).
Conclusion
To a certain extent you generally get what you pay for as far as value is concerned, so it's pretty unrealistic to expect wonderfully warm melodious tones from a relatively cheap, partially laminated instrument such as the Tiare TWT4.
Saying that, though, this is far from being a poor quality ukulele and is a great jumping off point for a starter model before you progress to the mid-range Kalas, Snails, Ohanas etc. It's great fun to play, with a good action and decent intonation.
The downsides or cons associated with it are the fairly workmanlike finish, when pitched against the makers I mentioned above, the lack of fret markers on the side of the neck and purfling around the edge of the body.
Sound-wise it does have a more limited tonal palette than instruments higher up the price scale, but that would be an unfair criticism, bearing in mind it's probably a third to a half less expensive.
Tanglewood also manufacture a number of other ukes in the Tiare series, including sopranos, tenors and baritones, as well as electro-acoustic versions in some cases. So there should be enough variation to check out if you need a slightly larger model (tenor and baritone) or something more suitable for a small child (soprano).
Bear in mind that the small members of the ukulele family generally have less sustain and are trickier to play for people with large hands.

Sound: 6/10
Construction and Finish: 6/10
Reliability: 7/10
Playability: 7/10
Value for Money: 8/10