Whether you want to learn and play it yourself, or are buying a 12 string guitar as a gift, many wonder what the best 12 string guitar for beginners is, or even if there is such a thing!
Since they're considered harder to learn than the 6-string. I've also written a separate complete 12 string guide for beginners, and what to look for when buying a 12 string guitar too – so you know what you're getting yourself in for.

I'd strongly recommend reading those articles, then coming back here to see my shortlist.
Tip: If you haven't got time to read through this whole review, the overall best 12 string guitar for beginners, in my opinion, is the Takamine GJ72CE-12 G Series Jumbo Cutaway. You can check it out at Amazon here. Otherwise, read on for a more in-depth discussion, to help you make the right choice.
I've handled many of these guitars myself, so this article will focus on a selection of some good value new 12-string guitars at three basic price points:
Budget options
'Good value' mid-priced 12 strings
Upper price range for quality seekers and aspiring pros.
The best 12 string guitars for beginners in each price range is below:
The Best Budget 12 String Guitars for Beginners
These 12 String Guitars are at the Lower End / Cheap Price Range of around $300 and below. They're all decent instruments for a beginner who doesn't want to spend a lot upfront to see if it's for them:
Vangoa VG41-12CE Dreadnought Electro-Acoustic Cutaway (Electro-Acoustic)
For an electro-acoustic model, the Vangoa VG41-12CE Black Cutaway is surprisingly good value for money and is a nice choice if you're on a tight budget. 
The all black appearance is finished in an unsual flat matt/satin vanish.  To accompany the instrument, the Vangoa comes with a nice selection of accessories including a gigbag, strap, tuner, spare set of strings, capo, guitar cable and a few picks – pretty much everything a beginner is likely to need.
The size and shape is your archetypal cutaway dreadnought with plenty of volume without being amplified.
Obviously, at this price point you'll be getting a laminate top (with mahogany back and sides), but that won't greatly hinder the instrument tonally.
Pros
Price won't break the bank
Nice matt finish
Full-bodied sound
Easy action tuners
Frets dressed pretty well
Good EQ section
Cons
Gigbag is a bit snug for a 12-string
Laminate top
No built-in tuner
Capo isn't very well made and not really suitable for this 12-string
Epiphone DR-212 Dreadnought
Spruce Top/Mahogany Body/Mahogany neck/Rosewood fingerboard
A very good solid performer from Gibson's stable partner, Epiphone.  The guitar has excellent sustain, coupled with a lot volume projecting from the big dreadnought body. 
The action is good on the instrument I tried, but obviously I can't vouch for all production models. 
It is fair to say that if you go for an Epiphone it's likely to be pretty decent quality and has a long history behind the name.
Pros
Solid Spruce top
Mahogany  back and sides
Big sound and lots of projection
Rosewood fingerboard
Very good value for the price
Cons
Some intonation issues a little higher up the neck, but not too bad
No gigbag or other accessories with it
Mitchell D120S12E Dreadnought (Electro-Acoustic)
Check the Price at Guitar Center    
Check the price at Musician's Friend
Check the Price at Walmart                                          
Spruce Top/Mahogany neck & body/Rosewood fingerboard
For the price, the Mitchell D120S12E (Guitar Center's inhouse brand) is a very nice full-bodied sounding guitar and includes a solid spruce top.
Physically, the guitar looks attractive and well made, with its scalloped headstock.

As a general comment, It's probably fair to say the lower down the price scale you get, the more variable the quality of each factory-built instrument is likely to be. 
If you like the guitar, but it has a few niggles, you can always take it to a guitar tech and have them give it the odd tweak here and there. 
It was hard to pick a winner in this category, as all three instruments had significant plusses to them and all offer considerable bang for your buck!  But for me, the Mitchell just shades it by a hair's breadth.
Pros
Solid Engelmann Spruce top
Rosewood fingerboard
Full-bodied sound
3-band EQ and tuner
Good action
Elegant appearance
Scalloped X-bracing
Cons
Tuners decent, but not top notch
Sometimes hard to find in stock
The Best Value 12-String Guitars for Beginners
For those looking for a balance between quality and value, these are the best 12 string guitars that balance both, usually falling in the $350-650 range.
Ibanez Exotic Wood Series EW2012ASENT (Electro-Acoustic)
Figured Ash top, back & sides/Mahogany neck/Rosewood fingerboard
Pros
Visually striking and unusual
Good solid jangly tone
Bonus of XLR output or regular ¼" jack socket
Feedback eliminator, chorus, phase reversal and tuner options in EQ section
Quality construction as expected from Ibanez
Cons
Tone is slightly more effective amplified
Obversely, the look isn't to everybody's taste
A very versatile guitar from Ibanez with a number of unique features absent from many others in this price range.  Arguably, this is more of performance instrument than a sit in the corner and noodle away-style guitar.  Personally, I'm on the fence regarding the look of the instrument, probably preferring a more traditional spruce or cedar top.
The electronics are where it scores highly with its unusual XLR output socket and comprehensive EQ section .  Definitely a guitar to get you noticed!
Takamine GJ72CE-12 G Series Jumbo Cutaway (Electro-Acoustic)
Spruce top/Flame Maple back & sides/Maple neck/Rosewood fingerboard
Pros
Jumbo body producing lots of projection
Solid Spruce top
Slimline neck for better playability
Comprehensive EQ section with built-in tuner
Cutaway to access the upper frets
Cons
A big guitar that maybe a little bulky for a smaller frame
Maybe not as resonant in the bass frequencies as you might imagine
Takamine has been around a long time and has a knack of producing great-sounding guitars at reasonable price points.  The GJ72CE is no exception and will happily fill a medium-sized hall with sound.  If you want subtlety this probably isn't the ideal guitar for you with its powerful projection properties.  A big guitar that may be too big for some. 
The EQ section is a major plus and adds to the guitar's versatility.  You'll find it's fine unplugged if you want to keep it simple.  Very nice guitar at a good price.
Yamaha APX 700II-12 (Electro-Acoustic)
Spruce top/Nato (Eastern Mahogany) neck, back & sides/Rosewood fingerboard
Pros
Spruce top
Yamaha's System 64 preamp/Acoustic Resonance Transducer  system
Onboard electronic tuner
Again, a great guitar for live performance or d.i.-ing into a soundboard
Cutaway for access to the higher fret positions
Thinline body shape making the guitar less bulky
Like most Yamaha guitars, built to last
Cons
A bit quieter and lighter sounding  than a standard 12-string. Best amplified or d.i.'d into a soundbound
Less of an organic feel to it than a traditional player might prefer
Yamaha has come up trumps with this very playable slimline (or Thinline in Yamaha parlance) 12-string, which could be looked on as direct competitor with the Ibanez.  The electronics are where this guitar really scores with its combination of the A.R.T technology and System 64 pickup. 
This allows the guitar to take on a number of different timbres and achieve a naturalistic acoustic sound when amplified.  This might not be a guitar for the traditional folky wanting something with a little more full-bodied and earthy.
This was a hard category to rate as all three guitars performed admirably.  The different qualities of the three models have made it difficult to compare fairly, but if I was to opt for one and only one, it would probably have to be the Yamaha with versatile sound-shaping electronics. 
The Takamine may not suit all players because of its big footprint and the Ibanez might be an acquired taste visually, but all three are strong performers in this category.
Best 12 String Guitars for the Money – Upper Price Range
Martin Guitar X Series D-X2E Acoustic-Electric Guitar
Pros
Top build quality
Great sound as expected from a Martin guitar
Solid Sitka Spruce Top
Precision hardware
Built to last
Cons
Not all solid tone woods in the construction
Heavier price tag for the Martin name
A great guitar from C F Martin with a lovely tone to it. Very playable as expected from this legendary maker and top build quality.  Where it loses a few points in my eyes is in the use of some slightly cheaper construction materials. 
Tonally, it works very well despite this criticism, but I don't know how this will age in comparison with an all-solid wood instrument.   Despite this, Martin have a winner on their hands at this comparatively power price point for a very nice 12-string.
Taylor 150e (Electro-Acoustic)
Sitka Spruce Top/Walnut back & sides/Ebony fingerboard
Pros
Excellent craftsmanshp
Solid Sitka Spruce top
Walnut back and sides
Ebony fingerboard
Great sounding instrument as you might expect from a Taylor guitar
Cons
Unlabelled EQ and volume controls
EQ and volume controls not as visually accessible as other electro-acoustic models
A little pricier than the Martin if you're on more of a budget
As you might expect from Taylor, you get a lot of guitar for under $900.00.  The 150e is a very playable instrument from the get go without a lot of setting up and rings like a good 12-string should. 
Obviously, when you enter this sort of price bracket, arguably you're buying a lifetime's worth of music making, so it needs to be worth the purchase price.  With the use of all quality solid tone woods and precision hardware, this a 'serious' guitar.

My winner in this section by a whisker, is the Taylor, with its all solid wood construction and classic 12-string tone. That's not to say the Martin isn't an excellent guitar, because it is, but doesn't quite have the specification the Taylor does at a marginally higher price point.  Both models will not disappoint!

If you're a beginner, but have an itchy pocketbook, I would always recommend purchasing the best instrument you can get.  It's a fallacy that a beginner should only contemplate buying a budget instrument.
If money is no object, within reason, you'll get more pleasure out of learning from a nice instrument than something you might have to struggle with.

In the end, nothing beats heading to your local music store and having that hands-on experience with an instrument before you part with your hard earned dollars.  It's often worth haggling and showing them the online price to see if they're prepared to match it. 
Alternatively, if you like a particular model in the store, there's no obligation to buy. Just take your newly gained knowledge and order directly from the online seller if the price is markedly better.  It might even be worth asking for a set up to be done on the instrument as a condition of ordering. Explore all your options and good luck!
What to Know Before Buying a 12 String Guitar
Generally, 12-string guitars tend to be a little more expensive than their 6-string counterparts for several reasons. 
Firstly, they need additional hardware and extra support in the neck and bracing of the body. A badly constructed 12-string will more than likely end up as firewood if the neck bows and eventually breaks under the extra tension from the strings.
Secondly, it's more of specialty instrument, albeit a popular one,  and so manufacturers aren't likely to make them in as significant numbers as their 6-string cousins. 
You can always check out the secondhand/used market and will probably be able to pick up the odd bargain or two. 
You may want to read my complete guide on what to look for when buying a 12 string guitar, before you come back here and read my recommendations. This is so you make the MOST informed choice possible!
One thing you should know is that over the past few years, acoustic guitar manufacturers have been installing electronics into the majority of their models. 
This is a customer-driven shift in direction to expand the versatility of the instrument with a view to both recording and live performance.  All acoustic models can still be purchased for the purists, but aren't as prevalent as they once were. 
So if there's a bias towards electro-acoustic models in this article, this is simply reflecting the trend towards to the more versatile instrument.  Another feature which a lot of musicians find useful is the inclusion of an onboard electronic tuner.

The models featured in this article are available from varying online sellers.
If you fall outside of the US many of the models may still be available in your local or online music store.  It's always best to check before paying a significant shipping fee.  
I also recommend exploring the used guitar market.  The advantage of this is twofold; you probably won't be paying anywhere near the list price of a new or even a discounted instrument and you'll also be getting an instrument that has aged nicely (in the case of all-wood models), as well as being properly "played in". 
Models are discontinued and superseded all the time, so if a particular model is no longer available, it's likely to pop up on the used market.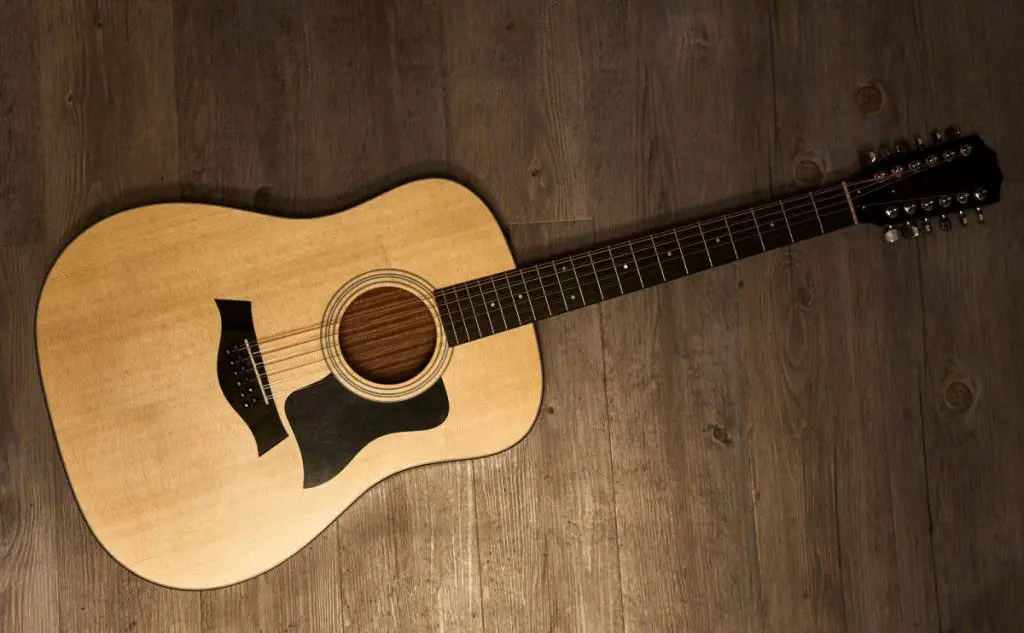 12 String Guitar Jargon Buster
Bracing: Strips of wood attached to the inside of the instrument to both strength and aid with the tonal quality of the sound being projected.
Cutaway: a guitar where part of the body is scalloped out to give greater access to the higher frets.
D.I.: Stands for 'Direct Injection'.  This means plugging a guitar, instrument or microphone directly into a soundboard, rather than into an amplifier.
Dreadnought:  A large bodied acoustic guitar producing a big sound.
EQ: Equalization or in old language the tone controls or how you shape the sound.  Most onboard EQ systems will feature Bass, Middle and Treble.
Jumbo:  The biggest guitar size of them all.  The next size up from a dreadnought.
Laminate:  A guitar made from layers of wood, rather than from one solid piece of wood.
Top: The flat piece of wood containing the soundhole on most fretted instruments.  On an acoustic guitar it's generally a wood like spruce or cedar.